Leavitt Law Firm is proud to announce that Attorney Dennis Myron Leavitt has been honored by Three Best Rated®. For his unparalleled work in the divorce and family law arena, the service has named Attorney Dennis one of the "Top 3 Divorce Lawyers" of Las Vegas.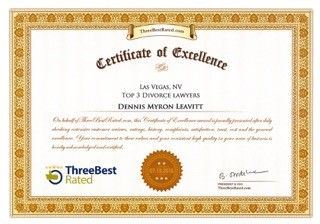 Three Best Rated® is dedicated to recognizing the very best businesses and professionals available to communities all over the U.S., including lawyers, doctors, restaurants, dentists, and more. They compile information on every candidate from a comprehensive list of sources and regularly update their directory with the latest quality ratings to better guide consumers to the most trusted and accomplished services.
Just some of the information collected and evaluated by Three Best Rated® includes:
Customer reviews, complaints and satisfaction
History and experience
Ratings from other reputable directories
Cost
Trust and reputation
This is not the first time that Attorney Dennis Leavitt has been recognized for his work in family law. He continues to maintain a 10.0 Superb Avvo Rating, a client-generated score cultivated by one of the most widely used legal directories in the industry. In 2012, after years of outstanding work on behalf of his divorce and family law clients, Attorney Leavitt was sworn in as a Pro-Tempore Judge, cementing his reputation for knowledgeable navigation of this practice area.
We congratulate Attorney Dennis Leavitt on this latest honor from Three Best Rated® and are certain he will continue to provide the individuals and families he serves unmatched insight and advocacy.
If you are facing a divorce, it is crucial that you retain legal representation prepared to stand for your rights and interests. At Leavitt Law Firm, our award-winning and sought-after Las Vegas divorce attorneys have countless times partnered with individuals and families who are ready to start a new chapter of their lives and complete the divorce process as swiftly and favorably as possible.
Want to learn more about your divorce options? Call us at 702.996.6052 today.