Filing for Divorce in Las Vegas
Going Through a Divorce? Team Up With Our Firm. Call

(702) 996-6052

.
If you are considering filing for divorce in Las Vegas, Nevada, consult a lawyer from Leavitt Law Firm. We will assess your legal needs and determine the best course of action for you. When your family's well-being is on the line, we know that you deserve excellent legal representation to protect the people you hold dear to your heart as well as your assets and interests.
Filing for Divorce in Nevada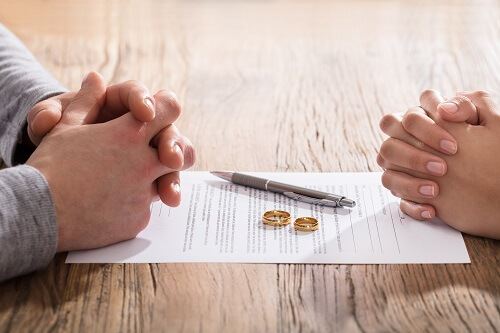 Divorce is hardly ever cut and dry. In fact, there is no single solution to divorce, and it can be one of the most emotional and complex areas of law. Oftentimes, couples filing for divorce can feel overwhelmed by the legal process while trying to balance everyday responsibilities, particularly to their children and work. With the right legal representation, however, Leavitt Law Firm believes that you can achieve a fast and easy divorce.
We know that you do not want to be stuck in an endless courtroom battle. We know that you want to move on from this time in your life quickly and with the least amount of pain and heartache as possible. Let us simplify the legal process for you.
Contact Leavitt Law Firm at (702) 996-6052 for your confidential evaluation.
How Do I Get Divorced in Las Vegas?
Nevada recognizes different types of divorce, and we can assist in any of these areas. Individuals who are considering divorce must also carefully prepare for related matters, such as child support, child custody, property distribution, visitation rights, and alimony.
If you fulfill Nevada's residency requirement of at least six weeks before filing for divorce, we can assist you with the following:
Contested divorce - in which both parties do not agree on issues such as custody, support, alimony, or visitation
Uncontested or collaborative divorce - in which both parties agree on all issues pertaining to the divorce
What do I need when filing for divorce?
Divorce laws in Nevada are fairly straightforward, if you adhere to state regulations and requirements. Whether your divorce is contested or collaborative, you or your spouse will be required to fill out a significant amount of paperwork. If you are the spouse responsible for completing the paperwork, you'll need to "serve" the documents to the non-filing spouse. The non-filing spouse then has 20 days to respond to the documents you served.
When filing for divorce, you'll need the following documents:
Decree of Divorce;
Affidavit;
Certificate of Service or Waiver;
Child Welfare and Identification Sheet (if there are minor children); and
Summons (if you and your spouse cannot agree on the terms and issues of your divorce).
How Long Does Divorce Take in Nevada?
Divorce in Nevada can take anywhere from a few weeks to several months, depending on the type of divorce. In general, the amount of time it takes to get a final decree can be broken down accordingly:
Summary: 1–3 weeks
Uncontested formal: Up to 6 weeks
Uncontested divorce by publication: Up to 4 months
Contested: Up to 3 months (or longer if the division of property gets very complex).
Is Nevada a No-Fault State for Divorce?
Yes, Nevada is a no-fault divorce state, which means that you are not required to prove that the other spouse has committed any type of wrongdoing. Generally, no-fault divorces are granted due to:
Incompatibility;
Irreconcilable differences;
Irretrievable breakdown of a marriage; or
Having been separated for a minimum of 12 months.
We Fight for Your Best Interests!
Don't let a nasty divorce dispute cost you unnecessary time and money, or worse, your access to and relationship with your children. We can help you petition for a restraining order when you're facing domestic violence, or establish a spousal support arrangement, or petition for visitation. In our years of experience, we have helped numerous clients achieve satisfactory results through mediation. When you are looking for a lawyer who is genuinely concerned about how the legal system can directly impact your family's well-being, a divorce lawyer from Leavitt Law Firm is the one to choose.
Whether through mediation or litigation, we can help you move on from this time in your life. At Leavitt Law Firm, you do not have to allow the legal system to take advantage of your vulnerability, emotions, and family. The next chapter of your life can begin today!
What Our Clients Say About Our Representation
Attorney Leavitt has been named one of the Top Ten Divorce Attorneys in Nevada, and our experienced team of divorce attorneys have been recognized as Best of Las Vegas 2017 and 2018. We want you to get a feel for how our firm operates and the representation that we offer. To do so, we have included excerpts from some testimonials the former clients have left for us.
Here is what some of our clients have to say after working with us:
"If you need someone to get things done the right way, call Leavitt Law Firm."
"I would recommend this attorney to anyone that needs a lawyer."
"Mr. Leavitt handled my divorce in a professional manner and treated me like I mattered."
"Mr. Leavitt treated my case like it was important to him."
"My calls were returned and I was treated like my case was important."
"Leavitt Law Firm is the only place to go for your divorce."
---
While no two divorces are the same, we take the same approach to each client. We put forth our full efforts to protect your rights and fight for the results that you need and want.
Contact us by calling (702) 996-6052 to schedule your initial case evaluation.